---
ReferralPoint helps health systems, medical groups, and risk bearing entities who need to reduce costs or leakage to capture lost revenue and want to reduce provider burnout and increase patient loyalty. ReferralPoint is a data-driven network management and closed-loop referral solution that...
Reduces out-of-network leakage
Increases revenue & shared savings
Quantifies the impact of existing referral trends
Uncovers cost reduction & savings opportunities
Improves referral care coordinator productivity & efficiency
Automates communications to increase patient satisfaction & retention
Unlike manual processes or disconnected tools that result in uninformed referrals, ReferralPoint's data ingestion engine enables the use of cost and quality data to rank specialists and facilities to build high-value preferred networks, then seamlessly presents the ideal patient-provider match within the Allscripts workflow.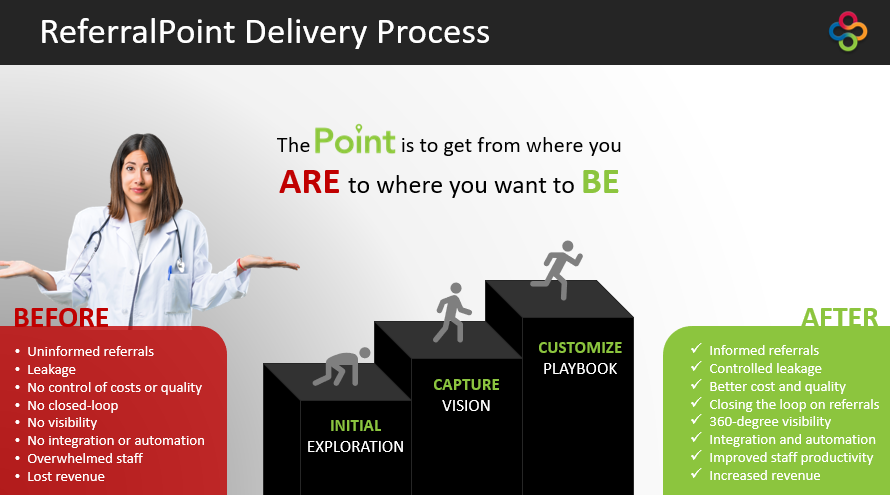 Can you quantify the financial impact of leakage or referring to high-cost specialists?
Most organizations know they have inefficiencies and barriers around the referral process but are shocked to learn the true cost.
Calculate now > Referral IMPACT Calculator


"What I like most about ReferralPoint is getting 100% more control over our referrals. Before, we didn't know our out-of-network percentage but now that we can control and track it, we've seen it drop from 33% down to 8%."
- Dr. McCarrick, CMO, Vanguard Medical Group, New Jersey
Watch the Patient Marketing Video
Documentation:
IdealMATCH™ Patient Handout.pdf