---
At Relaymed, our mission is to provide automated workflows for smarter care delivery.
Relaymed is a simple and affordable subscription middleware that exists to put point-of-care (POC) test results automatically and securely into your Allscripts EHR, eliminating manual entry, delays and errors.
Every year billions of POC test results from paper printouts are manually entered into EHRs. This is a time-consuming process, as a single test result can contain a dozen different numerical values and units. Each data entry is an opportunity for human error to sneak in and each printout is an opportunity for the result to get lost.

We've built a middleware solution to efficiently move and handle point-of-care testing data and enable dramatic improvements to healthcare delivery.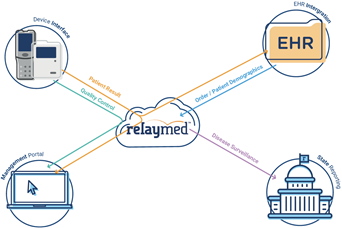 At Relaymed, we are subject matter experts from POC testing to EHR workflows. We wanted to make a real difference to our customers' workflows so that they could get back to why they got into this business in the first place, providing top-notch patient care.
Now, Relaymed is able to send millions of patient test results securely and efficiently across a growing network of healthcare organizations, leveraging a single connectivity platform. We work tirelessly to ensure a truly seamless data flow from device to EHR. We've built a product and company that customers love. The Relaymed team is with you every step of the way to ensure our solution meets your needs.
Relaymed has a long history of working successfully with Allscripts. So much so that they've awarded us for it!
Apps by this developer
---
COVID-19 Offers, Device Connectivity
Compatible Products:
Professional EHR, TouchWorks EHR
This is Short Description - The Relaymed State Reporting Module utilizes states' Electronic Laboratory Reporting (ELR) system to automate reporting of infectious disease results, including COVID-19, to your state department of health. ...